What to do – follow these top tips to get the most from your pots and pans
Heat your pan slowly. Start by setting your hob to a medium heat, before or while preparing your meat and vegetables. Then by the time your food is ready, your pan will be perfect for frying.

Take special care with the heating speed if you have an induction hob – the cooking plate's function for rapid heating can easily destroy the base of your pot or pan.

Fry at medium to 3/4 heat. Any higher is unnecessary. This way you kill several birds with one stone: You avoid overheating, reduce the risk of burnt-on food and you use less energy.

Avoid rapid cool-downs – let the pots and pans cool down before pouring on cold water.
Classic, Pro, IQ
1. Before first use, remove all packing materials, labels and tags and wash pan in hot, soapy water. Rinse well and dry. Assemble the glass cover handle, if applicable, following the instructions on the poly bag that holds all handle parts. Tighten by hand, only, do not use tools. Make sure the small washer that goes on the underside of the glass cover is flush with the glass surface. If not, turn the washer around and re-assemble the handle.
2. Heat pan to working temperature. Medium heat is typically sufficient for frying and sauting. Since each stove top has its own settings, find the best heat setting for your stove by starting at a lower setting, then gradually increase until water splashed on the pan surface evaporates immediately with a sizzle. High heat can be used for other applications, like boiling water, stir frying, oven roasting etc. These models are oven safe to 500 F.
3. SCANPAN Classic, Pro and IQ can be used without oil, butter or other seasonings, making it especially suitable for low fat diets.
4. After use, remove food and clean with warm, soapy water. The cookware wipes clean with a sponge and is dishwasher safe. We recommend to use extra care if you decide to clean the pans in the dishwasher to prevent damage to plates, glassware etc.
5. When storing Cookware and "nesting" (placing smaller pots inside larger pots) is required due to space limitations, we recommend placing a paper or cloth towel between the pots and pans to prevent scuff marks. Glass covers should ideally be stored upright using a Glass Storage Rack # 999150. If that is not practical, we recommend using towels or other suitable material to wrap the covers and to prevent them from chipping or breaking.
CTX, CTP
NOTE : CTX and CTP cannot be immersed in cold water while hot. This will cause the item to warp.
Burnt Pans ?
Cleaning burnt pots and pans
If food has burnt onto the bottom of your pot or pan (maybe because of overheating, see more below), here's what to do: 
Fill the product 3/4 full with water, bring the water to the boil on a medium heat, add washing-up detergent and let it simmer for 15 minutes. Then clean the pot or pan as normal – see above. Repeat the process if necessary. 
Knives
If you take good care of your kitchen knives, they will last for years. Here are the dos and don'ts.
1. Cleaning: Don't put your kitchen knives in the dishwasher
Some kitchen knives are dishwasher safe – including SCANPAN's. But you won't get away from the fact that the dishwasher's salts and other chemicals wear down both the steel of the blade and the sharp edge. 
If you repeatedly wash your kitchen knives in the dishwasher, you'll find that your knives become weaker – and need sharpening more often. Which just wears them down even more. 
So wash your sharp knives by hand with hot water and detergent. Dry the knives thoroughly with a clean tea towel – that way you avoid stains on the blade and handle.
2. Avoid rust film on your knives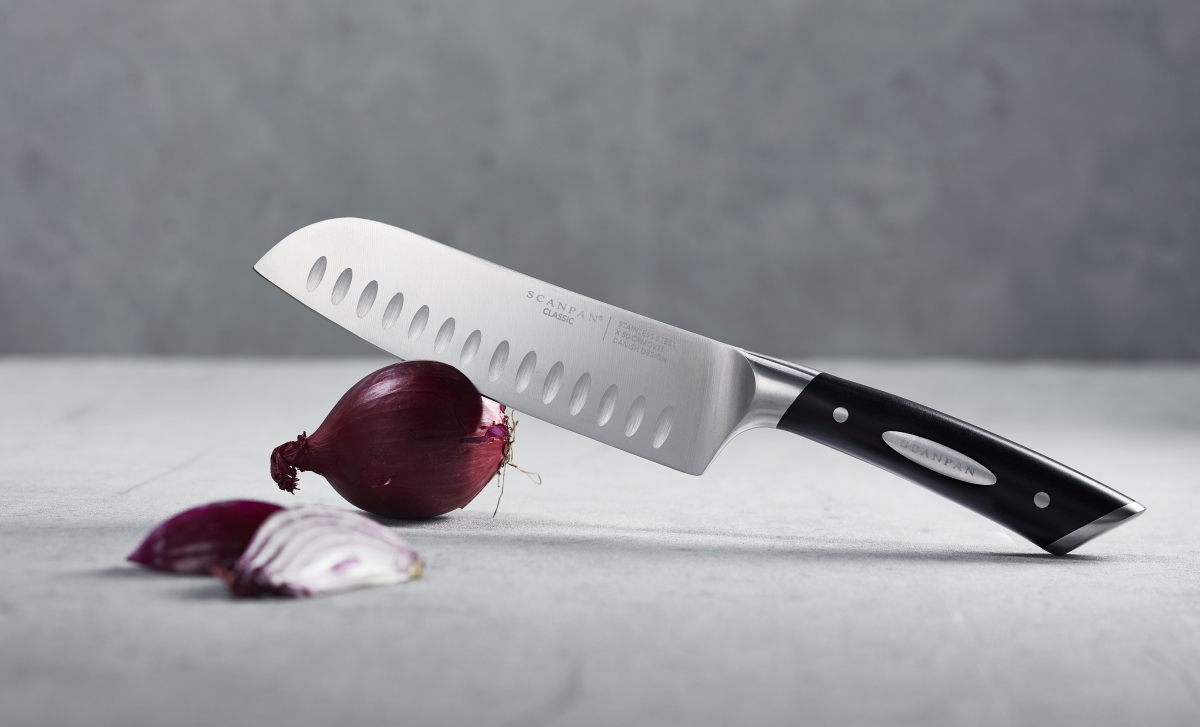 Brown rust stains on your beautiful kitchen knives are far from ideal. Rust film comes from kitchen utensils that contain iron (typical culprits are the cheese grater, garlic press and egg slicer or a damaged wire basket) and can stain knives and other stainless steel kitchen equipment if put in the dishwasher. Rust film can turn into 'pitting corrosion' if not removed from both the knives and dishwasher. Film rust on knives is easily removed with steel polish or steel cleaner.
By washing your kitchen knives by hand, you eliminate the risk of rust film forming on them. 
3. REMEMBER to sharpen regularly – keep the knife edge sharp
Sharpness is important, for both food and safety. A sharp kitchen knife cuts clean, straight slices of your roast – instead of fraying the meat and letting out all the juices.
Use either a honing steel or a knife sharpener with a ceramic grindstone for daily/weekly sharpening and maintaining the knife edge on your kitchen knives.  The honing steel/knife sharpener keeps the knife-edge sharp by correcting small dents and deformations. If you use a honing steel, remember to hone at an angle of approx. 15 degrees either side, as the knife's total sharpening angle is normally around 30 degrees. 
4. Sharpening your knives: Use a knife sharpener as required – preferably weekly
How often should you sharpen your knives? This depends on the quality of the knife, including what type of steel it is made of: The harder the steel, the less you need to sharpen it. It also depends on how often you use the knife and what you use it for.
Always sharpen as required – and preferably weekly or monthly for frequent knife usage.
Our 3-step knife sharpener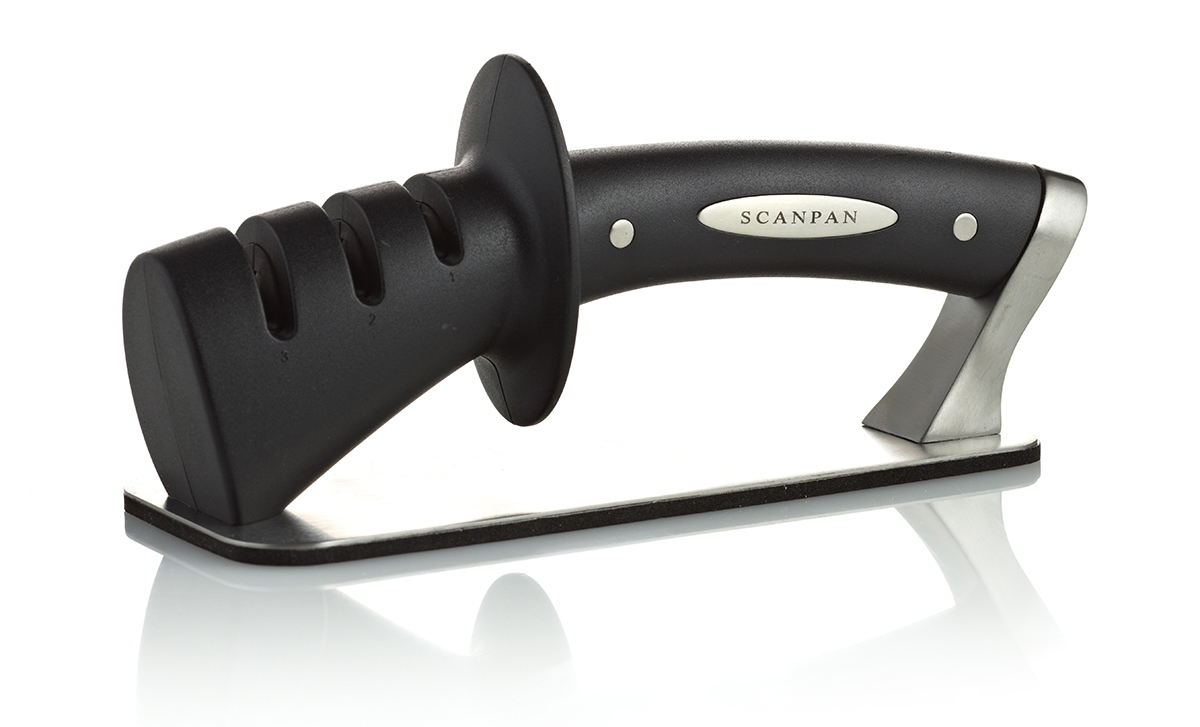 If the knife is completely blunt, sharpen it using the tungsten sharpener in SCANPAN's 3-step knife sharpener. You can use this to hone and sharpen in three effective steps, with three different sharpening wheels of tungsten, diamond and ceramic respectively. This allows you to return a blunt knife to its former glory and make it as good as new.
To sharpen blunt knives (12 months or more without sharpening), use all three sharpeners (tungsten, diamond and ceramic). For frequent sharpening, approx. every 2-3 months, use the diamond and ceramic sharpeners. For everyday use or minimum once a week, use the ceramic sharpener. This guarantees you a sharp blade.
5. Switch between different knives
Do you have a favourite knife? It stands to reason that if you use the same knife for all jobs, you will wear down the knife quicker. By switching between different knives, which are each suited to different jobs, your knives will wear down more evenly.
See also: Thinking about buying new sharp knives?
6. Use a knife block or knife magnet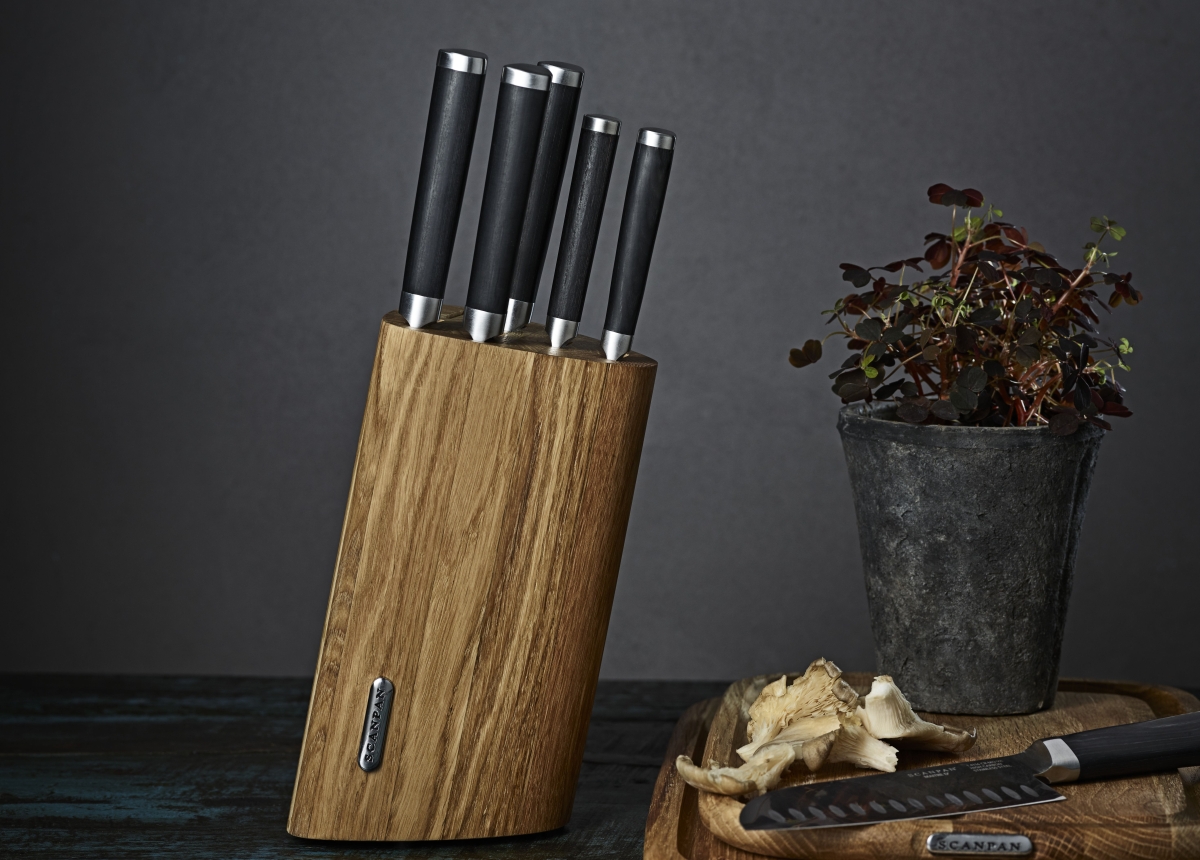 Storing kitchen knives loose and unprotected in a drawer is a sure way to blunt and damage knives. Not to mention the risk of cutting yourself when rummaging through sharp tools to find the knife you need.  
Keep your kitchen knives in order with a practical knife block or a magnetic track, so you always have knives to hand.